Angular vs Flutter for Web App Development: Know Which One Is Best?
Do you want to kickstart your web app development journey? But don't know where to start or which framework is right for you.
Well, we are here to fix your query and suggest the best framework for you to develop your web app. 
So, in today's blogcast, we are here and present you the two best and most famous popular frameworks – Angular and Flutter.
These two have some unique and effective features and have diversified benefits. But choosing the one is tricky and quite challenging. So, let's mark the best one till now. 
Start with the Basic – Angular vs Flutter
The angular and flutter are the two most disruptive frameworks of the era. The angular is based on typescript with a two-way data binding, dependency injection, and a modular architecture. 
Based on the learning curve, angular is quite difficult but has a high performance with a large active community.
Also, if you are planning to host complex web applications, enterprise applications, or progressive web applications, Angular is the right pick for you. 
On the other hand, flutter is a cross-platform framework for the developer's wing and enables them to build and develop native-looking applications for mobile, web, desktop, and single codebase. 
Flutter's performance is very high in nature and its programming language is dart with a growing community.
So, if you want to bring heavy graphic applications, with a catchy and intuitive user interface application – Flutter is the right pick for you. 
Get a more valid and clear differentiation of both frameworks with the table.
| | | |
| --- | --- | --- |
| Feature | Angular | Flutter |
| Programming language | TypeScript | Dart |
| Learning curve | Steeper | Easier |
| Performance | High | Very high |
| Cross-platform development | No | Yes |
| Maturity | Mature | Newer |
| Community | Large and active | Growing |
| Ecosystem | Extensive | Growing |
Feature Comparison : Angular vs Flutter
Applications Powered by Angular 
We don't judge a book by its cover – well the phrase is right and we can't understand the angular without diving into it.
Many famous applications are already running on Angular which makes and signify it best from other.
However, if you have specific requirements for the web app, you need to check whether Angular fits or not in your arms.
Well, let's get a clear picture by assessing and showcasing some famous web applications that are already running on angular:
Netflix, Gmail, Forbes, BMW, Nike, and Disney+ are some of the big giants that have made their applications on Angular.
These are some of the good examples that are powered on Angular. It is a versatile and robust framework that is mainly used for a wide range of web applications. 
Ease with Peace – Flutter
Making the right application is quite tricky for the developer's wing and building it is quite complex. But don't you worry about it when Flutter holds the front seat!
Flutter is the right pick for cross-platform application development with a growing ecosystem. Its performance is very high and easy to form.
But do you know that many esteemed companies are building their web application on Flutter? Let's check out some of them:
Alibaba
Philips Hue
Hamilton Musical
BMW
eBay
Toyota
These applications are high in performance and bring you the best seamless experience. Also, they are rich in animations which become easy with the help of Flutter. 
So, if you are planning to build your web apps then Flutter could be the right pick for you.
Why You Should Go with Framework – Angular & Flutter
If you want to develop a robust application then nothing can be better than – Flutter and Angular.
The development wing takes add-on support from these powerful frameworks and enables developers to build applications in minutes. 
Make dynamic and interactive applications with improved performance, better maintainability, and easy scalability.
So, here are all the seamless benefits of Angular and Flutter that you should know:
| | |
| --- | --- |
| Flutter | Angular |
| Speed up your development process with the flutter "hot reload" feature. | Manage and maintain large-scale projects with Model View Controller architectural pattern. |
| A single codebase minimizes the time and cost of development. It is applicable on both Android and iOS. | Make dynamic and responsive applications with two-way binding. Get automatic updates in the view. |
| Bring smooth animation and high performance by compiling the native code.  | Reuse the code for the different applications. |
| Make unique and visually attractive designs with Flutter Widgets.  | Angular got backed up with third-party tools like IDEs, text editors, and testing frameworks for a better experience.  |
The above table shows the power of Flutter and Angular and how developers wing can use them most efficiently.
Now, let's move on to the future of these frameworks so that we can anticipate which one is better.
Future of the Frameworks – Angular & Flutter 
The future is unpredictable and we won't know what holds in the future. But one thing that we all know is the seamless benefits and experience delivered by Flutter and Angular. 
The future of Angular and Flutter is very bright. Both frameworks are constantly being improved and new features are being added. This makes them excellent choices for developing modern web applications.
In the future, we will witness the Angular Ivy – it will help make things easier for developers and enable them to deploy complex web applications.
The Flutter will not be left behind and its upcoming version Flutter 3 is under process. It will support the new widgets and API for building modern user interfaces and support desktop app development too. 
Here are some future impacts of these two frameworks on the web app development:
Angular is developing the Ivy version which supports developers to develop and build faster applications. Angular is taking support from the latest and most advanced web technology like WebAssembly to stay ahead of the competition. 
Flutter's new version is focused on desktop applications and opens many new opportunities for developers. They can now use a single codebase for building applications on multiple platforms. 
These future projections show that both Angular and Flutter are in cutthroat competition and want to win the race.
They are showcasing their abilities to become big and grow their community so that the developer's wing can easily reach out to it and build an application that not only solves user problems but brings a great experience too.
Let's find out in conclusion, who will win the race. 
Which One Is the Best – Angular or Flutter? 
Well, it remains a big question so far which one is the best – Angular or Flutter. It's hard to state the best one but both are rich in quality features and have great plans. 
The requirements are specific and need to be clear as per the application requirement and building capability.
You can adhere to the Angular Best Practices to effectively develop complex web applications achieving optimized performance. 
On the other hand, if you are planning to develop a user interface that is filled with rich and quality graphics as well as animations in your app then Flutter would be the right pick.
It is best suited for the cross-platform application and smooth user experience. 
Hence, from both of them, it is quite hard to say the best one but if we go with learning and smooth experience, Flutter will win the race.
Because Flutter brings multiple perks for the user. But still, the decision completely depends on you and your specific web application requirement.
Please share this article about the Angular vs Flutter comparison with your friends and relatives if you find it useful.
We also ask that you bookmark this page for future reference, as we are constantly updating our articles with new information.
Sign up for our free newsletter as well to receive fresh information immediately in your inbox and keep technically up to date.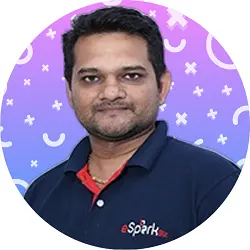 Authored by Harikrishna Kundariya
Harikrishna Kundariya is a marketer, developer, IoT, ChatBot & Blockchain savvy, designer, co-founder, and Director of eSparkBiz Technologies. His 12+ years of experience enables him to provide digital solutions to new start-ups based on IoT and SaaS applications.
You May Be Interested to Read: