A Genuine Comparison of Malwarebytes vs Kaspersky [2023]
Before we begin, we'd like to point out that the comparison of Malwarebytes vs Kaspersky is solely based on user feedback along with our user experience and reports from independent testing agencies.
Everyone nowadays spends a considerable amount of time online, and it has become standard practice to share confidential information without much hesitation.
However, this activity carries a higher risk than you would expect, particularly if you don't have adequate antivirus protection.
The Internet has its share of negative aspects, including hackers and various types of malware. If the virus has infected your machine, anyone can gain access to your data and use it for their gain.
All of us use free antivirus tools to keep our machines secure from outside attacks. However, we must note that a freemium model can only get us so far in the fight against fraudulent activities.
Although free antivirus software can help stop certain forms of malware infections, it is also inadequate to cope with sophisticated malware threats like malicious crypto mining.
Premium security software is an important investment in the face of such challenges since it is the best way to ensure full safety and peace of mind.
Malware is circulating at an extraordinary pace, to tell you the facts. Last year, over 8 million machines were compromised with malware in the United States alone!
Over 1.5 million new phishing pages are generated every month, so it's a surprise the figure wasn't higher.
However, with so many antivirus solutions available, deciding which one is best for your personal or family needs can be difficult. Don't be bothered! We've put together several comprehensive guides to assist you in making your decision.
Today, we'll describe two common antivirus software solutions:
Malwarebytes and Kaspersky.
We'll dig at the capabilities that their diverse antivirus solutions provide. We'll also look at how both companies did in the most recent independent reviews.
Have you used any of these applications earlier? Which application, Malwarebytes or Kaspersky, is the better choice in 2023?
To make an informed decision, read this comprehensive Malwarebytes Vs Kaspersky analysis. Also, we expect your experience with these products.
Are You Hurrying? Immediate Wrap-Up
If you're in a rush to find out the outcome, we'd like to summarise it in a few words.
We put them against one another and evaluated their performance in many categories.
Malwarebytes and Kaspersky both feature sophisticated virus scanners that provide outstanding real-time protection.
However, Malwarebytes lacks multiple additional features that should be included in the price. These capabilities are available from Kaspersky at a substantially reduced cost.
Kaspersky's key features include a firewall, parental controls, a password manager, and other tools.
Malwarebytes is a strong malware scanner with phishing protection; you can obtain a VPN by upgrading to Malwarebytes' most costly subscription. If you want additional functionality, go for Kaspersky. However, if you don't mind a simple antivirus, Malwarebytes is a viable solution.
Kaspersky Premium is a high-quality security application that is simple to use and explore. If you want a simple, set-and-forget antivirus for your Windows PC, Kaspersky is a good choice.
Malwarebytes' virus scanner, on the other hand, was marginally more powerful. But overall, we suggest Kaspersky since it provides a variety of capabilities even on the free plan.
Malwarebytes vs Kaspersky: Comparison At a Glance
If you're in a rush to figure out which option is best for you, see the summary table below.
| | |
| --- | --- |
| Features | The winner is Kaspersky. Overall, Kaspersky antivirus products are more robust and diversified than Malwarebytes antivirus programs. |
| Security & Malware Detection | Kaspersky is the winner. Kaspersky comes out on top in terms of malware security, achieving the highest possible score in both metrics AV tests and AV comparatives. |
| System Performance | The winner is Kaspersky. Kaspersky outperformed Malwarebytes in terms of performance. |
| Ease of Use | Both are the winners. All interfaces are so straightforward to use that even inexperienced computer users will find them useful. |
| Pricing | The winner is Kaspersky. Kaspersky offers extra licenses upfront in the security categories at a lesser price. We found the best deals for Kaspersky and Malwarebytes on Amazon. |
| Support | Malwarebytes was the clear winner. Malwarebytes completely ruin Kaspersky in this area of customer service. |
1. Features
Most modern antivirus programs, particularly premium ones, have a wide range of advanced features and utilities in their products. A unique feature or functionality may also be the deciding factor in attracting new customers.
Let's take a look at how the two companies measure up in terms of functionality.
To begin, we'll look at Malwarebytes.
Malwarebytes Free is the free edition with certain limitations. This product, like most freeware on the market, is merely a disinfection tool for removing malware that has already corrupted your device.
Aside from that, there are no advanced features or services, such as real-time tracking, in this product.
Malwarebytes Premium has a powerful "Real-Time Protection" function that looks for zero-day threats, malware, and potential bugs in software or code that cybercriminals might abuse.
Malware protection, ransomware protection, web protection, and exploit protection are all part of a Real Protection function.
The company's first paid coverage for a single unlimited license is Malwarebytes Premium. This product bundle features an integrated firewall that guards against ransomware, spyware,  viruses, and rootkits, among other digital threats.
It performs both automated and scheduled scans to suit your daily schedule.
Signature-based detection — which targets viruses that have infiltrated other computers by using unique sets of data and bits of code.
Malwarebytes also uses sophisticated behavior (heuristic) detection and modified virus signatures to identify new attacks.
The company's next product, Malwarebytes Premium for Home, is affordable. This suite contains three licenses, with the option to buy additional licenses (up to ten) if desired.
If you need to secure all of your family's computers, including Macs and smartphones, this is a cost-effective choice.
Malwarebytes has three kinds of scans: Threat Scan, Custom Scan, and Hyper Scan. It extracts suspicious software samples from its users' computers, which are then processed and used to generate regular updates.
In the form of a browser extension, Malwarebytes provides extra ransomware security and adware-blocking support. It protects you from accessing spam sites by blocking harmful websites that have been marked as malicious.
Premium Malwarebytes customers can reach out to customer care via email, online chat, or phone 24 hours a day, 7 days a week.
Malwarebytes has a wide range of enterprise items for a variety of industries.
Malwarebytes for Teams, Malwarebytes Endpoint Protection for company-wide servers, and Malwarebytes Endpoint Protection and Response are among the products available.
Now let's have a look at Kaspersky's antivirus options.
Kaspersky is one of the most potent malware and virus security programs available. It has some cool extra features and is easy to use.
The company's minimal free antivirus product is called Kaspersky Free. It defends against a variety of cyber ransomware as well as phishing websites.
It also prevents your device from viruses that can attempt to infect it through USB, but that's about all it does.
In this product line, Kaspersky provides three paid plans.
Kaspersky Anti-Virus, a Windows-only bundle, is the company's basic tier-paying antivirus security. It protects against all forms of malware, including viruses, spyware, and ransomware, in real-time and on demand.
Kaspersky has seven scan options, the most typical of which is the Background Scan. When you lock or leave your device, it scans for infected data. The Application Vulnerability Scan guarantees that your programs are up-to-date and virus-free.
This suite contains many useful features, such as the Vulnerability Detector, in addition to offering full protection from all forms of malware attacks. This software searches the system for vulnerabilities and fixes.
Silent Mode is also available, which disables alerts when you're gaming or watching videos. This suite also includes advanced multi-layered ransomware security.
Related: What Is Abandonware and Is It Legal?
Kaspersky Internet Security is the next choice, and it runs on PCs, Macs, and handheld devices.
Kaspersky Internet Security also includes Mac and smartphone support, as well as additional defenses against cybercrime including phishing scams and credit card fraud.
This bundle contains everything in the previous product and some other amazing functionality, such as a two-way firewall that tracks and prevents attacks in real time across all of your network connections.
The Safe Money feature from Kaspersky will protect your payment details from cyber criminals.
A robust Internet browser is also included with this suite, allowing you to comfortably search the web or shop online.
The Protect Browser launches a new browser window that glows green. Protected Browser by Kaspersky works on every browser you're using.
The Secure Application window disables browser extensions and syncing for security purposes.
An Antispam Module functions as an ad blocker for your messages, shielding you from spam.
Due to privacy laws, the "Anti-Spam" option is switched off by default for EU apps. It checks incoming mail against Kaspersky's servers to see if it's spam.
There's also a series of Parental Controls that keep an eye on your kids' digital activity and restrict their access to unsafe websites.
Finally, Kaspersky Total Security, the company's top-tier antivirus software, is available. Kaspersky Total Security is the company's most costly program.
This suite includes everything included in the Internet Security package, as well as some extra tools such as password manager parental controls, and a file shredder.
Kaspersky Password Manager will create secure passwords for you, save them in encrypted storage, and log you into your online accounts automatically.
The file shredder is a permanent delete function that can securely delete sensitive and confidential files from your system while leaving no traces.
You will also receive a backup utility with 2GB of cloud storage at no additional charge.
Kaspersky Security Cloud is a new software that was recently launched by Kaspersky. This product includes all of the features and utilities found in the "Total Security" suite, as well as an "adaptive technology" feature.
You can assist Kaspersky in its fight against malware by using Kaspersky Cloud Security.
By letting your machine submit data to Kaspersky and contributing to its antivirus testing, Kaspersky says that it will provide improved security against malicious applications and websites.
This innovative feature automatically applies all necessary security settings based on your typical activities and internet usage behavior.
Essentially, the technology adapts to any improvements in your usage habits as well as tailors your security depending on your actions. It is available in two versions: Personal and Family.
The free edition of Kaspersky Secure Connection VPN is included in the Kaspersky antivirus solutions.
It maintains 85+ servers in over 65 countries, most of them in North and South America and Europe. It is capable of unblocking the majority of worldwide streaming platforms, including Netflix US, Amazon Prime Video, HBO Max, and others.
However, top-tier Kaspersky Total Security customers do not have automatic access to the premium edition of Kaspersky Safe Connection.
All price options include Kaspersky Privacy Cleaner. You can remove "usage traces" from your device using the Privacy Cleaner function.
Privacy Cleaner deletes the browsing history, temporary archives folder, and prefetch cache, which preserves backups of recently accessed web pages for quick access.
Winner: Kaspersky is the winner. Overall, Kaspersky antivirus solutions provide a more robust and diverse set of features than Malwarebytes antivirus products.
2. Security & Malware Detection
The ability to protect your device against ransomware is the most valuable quality of any antivirus program that is worth your time and resources.
Malwarebytes and Kaspersky are well-known for their ability to remove viruses and malware. But let's see which one works best.
On the internet and other networks, there are a plethora of attacks. Let's look at the research results from professional monitoring organizations and see which of these two firms defends the device better against these attacks.
AV-Test.org has Security tests with a rating scale of 1 to 6, with 6 being the best possible result. The Malware Protection Test conducted by AV-Test examines how well each software detects vulnerabilities in an offline environment, such as those presented through removable media.
Malwarebytes received 6 out of 6 ratings in their Jan-Feb 2022, assessment, indicating that their malware security is capable. However, Malwarebytes had four false positives over this period, which is more than the industry average of one.
Kaspersky, on the other hand, during the same period, earned a perfect score of 6 out of 6 for its defensive capabilities, showing that it is extremely competitive. It also revealed that there were no false warnings and that the Kaspersky malware detection rate was fantastic.
To identify all varieties of malware, Kaspersky's malware scanner employs a virus database and cloud-based machine learning.
When the program finds something new and possibly harmful, it transfers the file to Kaspersky's cloud-based scanner for additional study. The cloud-based scanner then uses machine learning to determine whether or not the file is malicious.
Another research agency that has a neutral defense rating is AV-Comparatives. The Real-World Protection Test from AV-Comparatives assesses how well the program handles online threats such as malware downloads. In June of this year, they released the findings of their most recent Real-World Security evaluation.
Kaspersky received the organization's highest honor once again, the Advanced+ Award. Malwarebytes won the Advanced award.
According to the AV-Comparatives Real-World-Protection Test findings from July to October 2021, Kaspersky scored zero for False Positives. In addition, 743 test malware samples are used to assess how the software reacts to them, with Kaspersky scoring a 99.9 percent detection rate.
Malwarebytes had a considerably lower score of 12 for false positives and a detection rate of 99.6 percent.
Winner: Kaspersky is the winner. In terms of malware security, Kaspersky comes out on top, scoring the best possible score in both measures.
3. System Performance
Successful antivirus software would certainly secure your computer, but it should be as resource-light as possible. This ability is critical for freeing up the computer's processing power for regular activities.
Let's see what the research organizations had to say about our two rival antivirus software's impact on device results.
Malwarebytes received 6 out of 6 ratings from AV-test.org during its Efficiency test for the September to October 2021 period.
Kaspersky also earned a perfect score of 6 out of 6, meaning that it performs better on your machine.
A Performance rating was also provided by AV-Comparatives. Kaspersky won the organization's best possible rating, the Advanced+ Award.
Kaspersky scored admirably in the October 2021 AV-Comparatives performance test, except for lag in first-run program launches.
Malwarebytes, on the other hand, lagged in the first and subsequent runs while starting the program.
We discovered that Kaspersky was better optimized and had a lower effect on our PC after completing several tests.
Winner: Kaspersky is the winner. In the performance category also, Kaspersky outperformed Malwarebytes once more.
4. Ease of Use
The user interface of every antivirus product would have a significant impact on the user's level of comfort.
As a result, whether you aren't tech-literate or find it tedious to work out a complicated product, application usability may be a vital factor.
Let's take a look at the user interfaces of both applications to see which one is better and has a better user experience.
Malwarebytes is extremely simple to set up. It's as simple as opening the downloaded file and following the instructions.
From the moment the file was downloaded to the time the dashboard was first accessed, the installation took less than 3 minutes.
There are no redundant files, no shady deals, and nothing to be concerned with.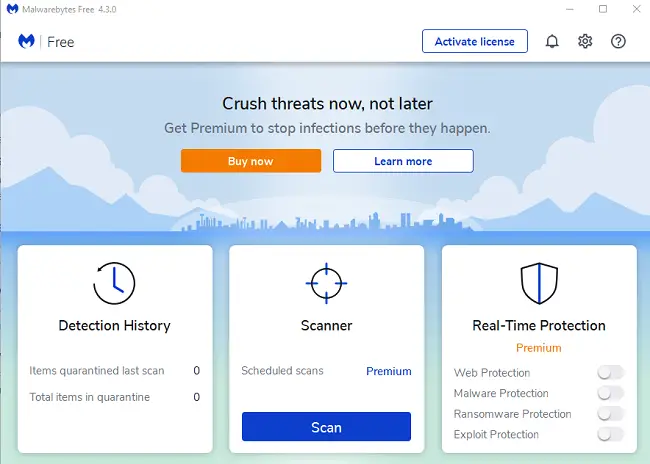 The dashboard seems complicated at first sight, but it is straightforward to use. A green checkmark occupies Malwarebytes' interface, signaling that the device is well secured.
Several icons and horizontal bars make up the right side of the screen. These bars have all of the information you need to successfully use the application and react quickly in the case of a security breach.
Blocks on the left side of the screen allow you to access various functions and features, such as scans and settings.
Overall, Malwarebytes provides a straightforward user interface that is very convenient to use and navigate.
Also, new users would have no problem accessing the interface."Dashboard" is self-explanatory — it leads you to the app's home tab.
Scanners are run and scheduled under "Scan."
However, if you use the free edition of the program, you could notice that ads appear regularly on the dashboard, constantly reminding you to upgrade.
These constant alerts easily become distracting and degrade the overall user experience.
Now let's see how Kaspersky's interface compares.
Kaspersky has a simple interface with the main colors green and white.
Your device's protection status is displayed by a large banner across the top of the screen. Several large icons below denote various functions.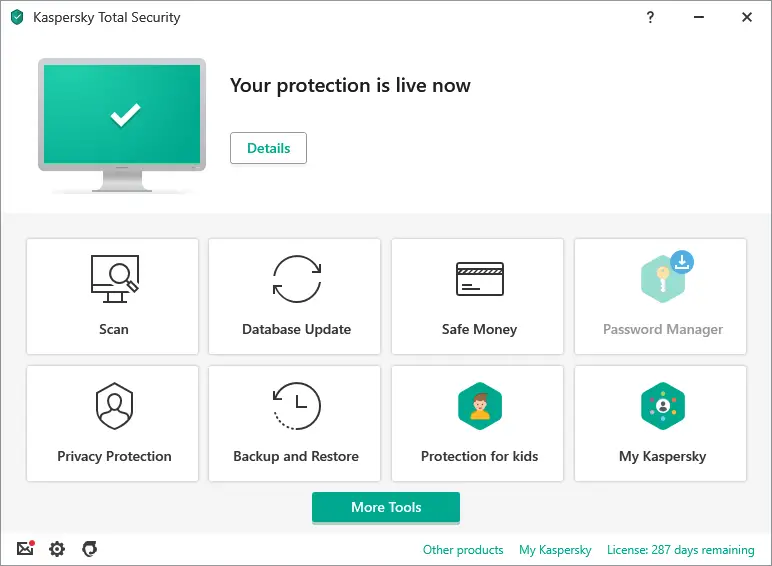 The free version of the program, like Malwarebytes' interface, has tactics to try to persuade you to upgrade. The interface displays all features but hides those that require a paying subscription.
Winner: Both are the champions. Both interfaces are so simple and intuitive that even inexperienced computer users can find them very convenient to use.
But, unlike flashy ads, Kaspersky's method of prompting you to upgrade isn't as invasive or distracting.
5. Pricing
The cost of antivirus applications will play a huge role in choosing which one is better for you.
For example, if the right software is prohibitively costly, it might not be worth the time. On the other hand, software that is reasonably priced will appeal to you more readily.
Let's compare the pricing plans for Malwarebytes and Kaspersky to see which one offers the best value for money.
Malwarebytes offers a wide range of plans. Malwarebytes has a package to fit almost every person, whether you are an individual, a family, or a company.
The basic edition of Malwarebytes is free, but it is only compatible with Windows. The premium for You is the first paying option, and it costs $39.99 a year for one license.
Despite the comparatively high initial cost, this license is appropriate for PCs, Macs, or handheld devices, so it offers a bit more benefit.
The premium for Home, Malwarebytes' next paid category, costs $59.99 a year and covers up to 10 devices.
Let's take a look at how Kaspersky charges for its services.
Kaspersky's product line can be a bit puzzling. For Kaspersky home users, there are two major product lines: "Internet Security" and "Security Cloud".
These are premium offerings and include yearly subscriptions. Each package has price points for 1, 3, or 5 devices.
Anti-Virus, Kaspersky's first paid security, charges $29.99 for three licenses (PCs only). Kaspersky Internet Security costs $39.99 and comes with three licenses for PCs, Macs, and mobile devices. Then there's Total Protection, which costs $49.99 and includes three licenses.
There are two variations of the Kaspersky Security Cloud: Personal and Family. Personal charges $49.99 for a similar number of permits, while the Family version costs $149.99 per year and covers up to 20 individual devices.
See the latest prices for Kaspersky security solutions and buy them from Amazon.
Winner: Kaspersky is the winner. For a lower price, Kaspersky offers you more licenses early in the security levels.
You'll also get more licenses for Macs or handheld devices for the same price as one Malwarebytes universal license.
6. Support
The consumer loyalty ranking is one more thing we should look at to see which of Malwarebytes and Kaspersky is the stronger leader.
Customer satisfaction is a strong measure of how well a business looks after its clients and demonstrates an interest in fixing their problems.
Customer service is certainly a big problem for Kaspersky, and although they have such a diverse set of solutions.
The FAQs, on the other hand, are a complete mess, and we are still waiting for an answer to my email. The FAQs from Kaspersky are disorganized too.
Consumeraffairs.org is a website that gathers customer ratings and translates them into a five-star ranking.
Malwarebytes now has a 3.2-star ranking, while Kaspersky has a 2.8-star rating, according to the most recent updates.
Another company that gathers consumer reviews and compiles them into a scoring scale ranging from A to F is the Better Business Bureau (BBB).
Malwarebytes received an outstanding A+ rating from this source, while Kaspersky received an F rating.
Despite Malwarebytes' better email response times, Kaspersky provided greater support options for more technical problems.
However, Kaspersky's assistance lagged far behind. Furthermore, both of them provide phone support, so you can fix technical issues that you can't put on chat or email.
Winner: Malwarebytes came out on top. Malwarebytes completely demolished Kaspersky in this customer support area.
Malwarebytes' customer support is miles ahead of Kaspersky's low satisfactory customer service, according to reviews on both feedback collection platforms.
7. Money Back Guarantee
Malwarebytes provides a 60-day money-back guarantee, whereas Kaspersky provides a 30-day guarantee. 
If you don't want to pay ahead and want to experience Malwarebytes' premium capabilities, you may join up for a 14-day free trial. When your trial period ends, you'll be reverted to the free plan unless you upgrade to a premium one. 
We like the money-back guarantee over the free trial since it allows you to try the premium features for two months rather than two weeks. 
Kaspersky has a 30-day money-back guarantee, but only if purchased straight from the company's website. 
It also offers a 30-day free trial and does not require a credit card for any of its premium subscriptions. It's a great way to test its capabilities and any variants before committing to a plan.
Winner: Malwarebytes
Malwarebytes vs Kaspersky-Conclusion
Malwarebytes and Kaspersky are the most popular antimalware software with some extraordinary features, but at the same time, they have some key differences.
Malwarebytes is famed for its dedicated malware removal capabilities, and it is a great addition to any antivirus software.
In normal cases, its free version is enough for normal users and its premium version offers much more capabilities like real-time protection and scheduled scanning.
From a business point of view, Malwarebytes is a straightforward antivirus application with server-specific solutions. It doesn't have a lot of features, but it provides enough antivirus protection for small and medium-sized enterprises.
But Kaspersky is a comprehensive antivirus solution with malware detection and removal capabilities.
It offers almost all advanced features, like real-time protection, regular updates, a firewall, parental controls, and Internet banking protection. But its free version is not enough to provide all the protection your system needs.
For business applications, Kaspersky is a safe, dependable antivirus with a diverse set of business solutions for organizations of all kinds. All of its business plans are expandable based on your organization's IT management and demands.
If you are looking for a complete antivirus solution with advanced features, Kaspersky is a great choice. But if you are looking for dedicated antimalware software, Malwarebytes is a great option for you.
So the choice is purely dependent on your application and budget.
Best Deals: Buy Kaspersky on Amazon | Buy Malwarebytes on Amazon
Which is better Malwarebytes or Kaspersky?
Malwarebytes has good customer support and functionality, but Kaspersky has a much wider range of features scattered across its various products.
Furthermore, Kaspersky's defensive capabilities are much superior to those of Malwarebytes. In addition, Kaspersky has a lower effect on your machine resources, which is always a plus point.
Finally, even if you use a Mac or a mobile phone, Kaspersky provides more licenses for less cost.
If you don't care about customer service, go for Kaspersky, which is more feature-rich and lightweight than Malwarebytes.
It offers seamless anti-malware security without stuttering your computer's efficiency. You also get nearly all of the advanced functionality you might reasonably need.
Kaspersky is the clear winner, in our opinion, because its protection suites offer more security-enhancing features and supplemental tools than Malwarebytes. Furthermore, independent testing shows that Kaspersky surpasses Malwarebytes in both malware detection and system performance.
Both Kaspersky and Malwarebytes may be purchased for a reasonable price on Amazon. You can buy these products from Kaspersky or Malwarebytes' respective websites also.
Frequently Asked Questions
What is better Kaspersky or Malwarebytes?
In our comparison, Kaspersky came out on top due to its broader features such as parental controls and cloud backup. It also performed better during malware detection and offered new users some appealing first-year discounts.
Malwarebytes provides excellent customer support and performance, however, Kaspersky has a significantly broader set of capabilities spread throughout its many programs.
Is Kaspersky as good as Malwarebytes?
Kaspersky is the obvious victor since its protection suites include more security-enhancing features and extra tools than Malwarebytes. Furthermore, independent testing demonstrates that Kaspersky outperforms Malwarebytes in terms of malware detection as well as system performance.
Does Kaspersky remove the Trojans?
Detection and removal of trojans, viruses, malicious tools, rootkits, adware, worms, spyware, keyloggers, and auto-dialers, as well as real-time protection, are some of the features Kaspersky Anti-Virus has.
Do you need Malwarebytes with Kaspersky?
There is no need to add a second antivirus software to your existing protection package. On the contrary, the two may conflict. If you use Kaspersky, there is no reason not to use Malwarebytes as a secondary.
Is Malwarebytes 100% accurate?
No security software is completely accurate. However, in most testing, Malwarebytes detects 99.4% to 100% of zero-day infections and 100% of the most recent malware.
Can I use both Kaspersky and Malwarebytes?
Even if you use Malwarebytes and Kaspersky at the same time, there may be an issue when you run two security applications at the same time.
We hope you found this post useful, and please like and follow us on Facebook and Twitter for regular updates.
We also request that you bookmark this page for future usage. Sign up for our free newsletter as well to receive new information in your inbox regularly and stay technically up to date.
Disclosure: If you follow our links to a retailer's website and make a purchase, we will receive an affiliate commission on some, but not all, of the products or services we recommend.
You May Be Interested to Read