How to Connect AirPods to PS4 Easly?
The PS4 does not come with Bluetooth audio support out of the box. That means if you want to use AirPods or other Bluetooth headphones with it, you'll need a Bluetooth dongle (adaptor).
If you connect AirPods to PS4 without a dongle, the PS4 will recognize them and you will go through all of the pairing stages only to have the process fail at the very end.
So, how do you use AirPods on a PS4, or how to connect AirPods to PS4 successfully?
This guide explains how to connect any model of AirPods to your PlayStation 4, as well as what accessories you'll need.
Limitations of Airpods on PS4
If you own AirPods and play PlayStation 4 (PS4) games, you may be wondering if you can utilize your favorite wireless earbuds with your PS4.
Yes, you can connect your AirPods to your PS4. However, certain limitations to be aware of when connecting AirPods to PS4.
First and foremost, while AirPods can be connected to a PS4, certain of its features may not function properly.
The microphone in AirPods, for example, is incompatible with the PS4.
Furthermore, the PS4 does not support true wireless stereo (TWS), so you will not have the same audio experience as you would on an iPhone or other suitable device.
Choose a Suitable Bluetooth Adaptor
You can connect your AirPods to your PS4 by purchasing a PS4 Bluetooth adaptor that supports Bluetooth audio and plugging it into the console.
You can use these Bluetooth adapters to connect your PS4 to a variety of Bluetooth devices.
This guide applies to all AirPods models, including the original AirPods, AirPods with wireless charging case, and AirPods Pro.
Bluetooth dongles come in two varieties on the market. One type can be connected to the PS4's 3.5mm port (PS4 audio port). It can be used in conjunction with your AirPods to listen to the PS4's sound.
However, it has the disadvantage of not being able to send voice back to the PS4 via the AirPods.
Another is the USB type, which can be connected to the PS4's USB port. This allows sound to be sent in both ways. That is, from PS4 to AirPods and back again. There are plenty of PS4 Bluetooth adaptors in the sector.
For this experiment, we used the Avantree Leaf Long Range USB Bluetooth Audio Transmitter Adapter from Amazon, but any Bluetooth adapter that supports audio and can connect to a PS4 (via USB or the headphone connector) will work.
If you're looking for something a little less expensive, we recommend the DEWIN Bluetooth Dongle Adapter. It is, however, a little more difficult to get up and running. However, it is nearly half the price of the Avantree Leaf, so it may be worthwhile.
Related: 9 Actionable Tips on AirPods Microphone Not Working Issue
How to Connect AirPods to PS4 with Dongle?
Although this article focuses on how to connect AirPods to PlayStation 4, you can connect any Bluetooth device to the PlayStation 4 once you have a Bluetooth adapter.
Follow these instructions to connect AirPods to a PS4 via Bluetooth adaptor:
Check that your AirPods are fully charged. The same is true if your Bluetooth adapter is powered by a battery.
Some adaptors require battery power, it normally plugs into the PS4 controller's headphone jack. Other Bluetooth adapters connect to the PS4's USB ports and do not need a battery.
Once you've received your Bluetooth adapter, connect it to your PS4. Depending on the model of your dongle, it may have a light to indicate that it is turned on.
It should have a button for synchronization (Pairing). It must be pressed. Check the instructions that came with your device for specifics on how to do this.
While holding your AirPods in the case, open the AirPods charging case and press and hold the syncing button.
Keep pressing the button until the Bluetooth adapter's lights stop flashing. This indicates that the AirPods are paired with the adaptor.
Go to Settings> Devices> Audio Devices on your PS4 after pairing the AirPods and adaptor.
On the Audio Devices page, there are two crucial settings to adjust: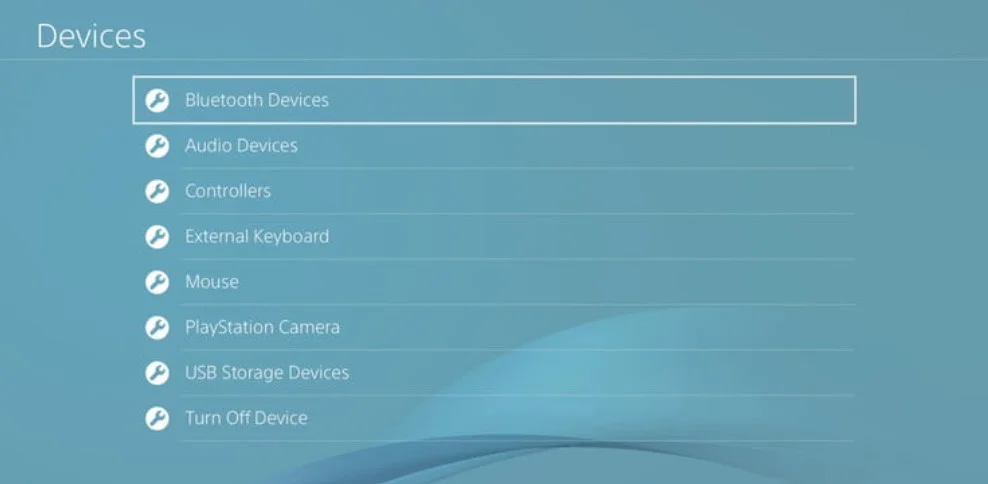 Input: Make sure the Headset Connected to Controller is selected under Input Devices.
Output: USB Headphones (USB Audio Device). should be selected as the output device  Finally, make sure that the output is set to Headphones and that All Audio is selected.
In the Volume Control (Headphones) menu, you may also adjust the volume of audio delivered from the PS4 to your AirPods.
If you're not going to use a microphone and just want in-game audio, follow the same steps as above, but stop after you've set the Output Device settings.
It's worth noting that, while different USB adaptors work in different ways, they all use the same basic Bluetooth syncing protocol.
Following that, all PS4 audio will be played through your AirPods, and you're ready to go! Similarly, you can connect a Bluetooth speaker to your PS4.
Related: How To Troubleshoot PS4 Won't Turn On Problem in 11 Steps?
Conclusion
Connecting your AirPods to your PS4 may provide plenty of convenience and engaging gaming experiences.
While some setup and debugging are required, the benefits of utilizing AirPods for PS4 gaming are well worth it.
You may enjoy wireless and high-quality audio while playing your favorite games by following the procedures indicated in this article and tweaking your audio settings.
Keep in mind the restrictions of AirPods on PS4 and, if required, investigate different alternatives. Your AirPods may give hours of great gaming sessions if properly cared for and maintained.
So connect your AirPods to your PS4 and prepare for a completely immersive gaming experience like no other.
However, most Bluetooth adapters only deliver audio from your PS4 to your AirPods, not the other way around. You'll need headphones designed specifically for the PS4 or other game consoles for this.
Frequently Asked Questions
Is it possible to connect AirPods to a PS4 without a dongle?
Unfortunately, AirPods aren't supported natively on the PlayStation 4. You'll need a third-party Bluetooth adapter to connect AirPods to your PS4.
Can I connect Bluetooth headphones to PS4?
Bluetooth headphones can be connected to a PS4, but only if they are PS4-compatible. Most regular Bluetooth headphones are incompatible with the PS4, so make sure you have Bluetooth headphones designed particularly for the PS4. Otherwise, you'll need to utilize a Bluetooth adapter to establish the connection.
Can I connect AirPods Pro to my PS4?
Yes, you may use the identical methodologies mentioned in this article to connect your AirPods Pro to your PS4. The procedure is the same for AirPods Pro and AirPods.
Do I need to update the software on my AirPods before connecting them to my PS4?
It is not necessary to update the software on your AirPods before connecting them to your PS4. However, keeping your AirPods firmware up to date is essential to maintain the optimum performance and compatibility with multiple devices.
Can I use AirPods for both game audio and chat on my PS4?
While AirPods may be used for game audio on the PS4, they do not permit direct in-game communication via the microphone. To converse with other players during online gaming sessions, you will need a separate microphone solution specially made for PS4, such as a gaming headset with a built-in microphone.
Are there any other wireless headphone choices for the PS4?
Yes, if you're searching for wireless headphone solutions particularly built for PS4 gameplay, you may check at Sony's PlayStation Gold Wireless Headset or other third-party gaming headsets that provide PS4 compatibility and functionality.
We hope you found this post informative, and do like and follow us on Facebook and Twitter for regular updates.
We also ask that you bookmark this page for future reference. Sign up for our free newsletter as well to receive fresh information immediately in your inbox and keep technically up to date.
You May Be Interested to Read: