5 Best Android Firewall Apps and Their Advantages
Most PC users have probably heard of internet security and firewalls. Furthermore, each PC operating system has its firewall configuration.
Even though we haven't configured the firewall, some default settings will protect our devices and data from introducers and hackers.
In the last ten years, the scenario has shifted slightly. Because a smartphone is now our primary device for accessing the internet daily.
We must strengthen our mobile devices with strong security measures. Android Firewall is an important tool for protecting your Android device from unwanted access, data breaches, and potential security risks.
Surprisingly, many smartphone users are unaware of the benefits of firewall security.
In this context, we'd like to go over the basics of a firewall, the requirements of an Android firewall, the benefits of using firewall apps, and some of the most popular firewall apps.
What Is a Firewall?
A firewall, in a nutshell, is a network security device or software protocol that analyses and regulates incoming and outgoing network traffic.
An Android Firewall operates as a barrier between your device and the external network, allowing you to regulate and manage incoming and outgoing network traffic.
The name firewall is derived from the actual physical wall that is used in large buildings to prevent fire from spreading from one area to another when a fire incident occurs in any part.
In the case of computer networks, the same strategy is applicable. A firewall is a hardware or software device, or a combination of the two, that isolates or regulates unauthorized access to a computer device or a computer network.
A firewall system is commonly used to protect a private network. Firewall protection is used in a network to regulate traffic from the public network, either on individual computers or at the common router level.
Cybercrime and hacking attempts are on the rise to alarming proportions. This fact, however, is more relevant to desktop and laptop computers.
A firewall is a network security device that can prevent intruders from gaining access to your computer or laptop.
Firewalls have been protecting PCs and private networks from unauthorized access since the late 1980s.
The firewall monitors both the network and your computer's incoming and outgoing network traffic. Your firewall will prevent any potentially harmful file or attempt from entering your computer.
Firewall for Mobile Devices
When you hear the term "mobile security," you probably think of antivirus and anti-malware software. Mobile Security encompasses a wide range of applications.
Firewall protection is a security feature that is just as important as anti-virus and anti-malware software. The firewall is essentially something that manages your phone's data exchange with the public internet and, in some cases, with your local network.
Do you still have questions about how to use the firewall?
Simply put, a firewall is a system that regulates and manages internet traffic. A firewall App protects your phone from potentially harmful or untrustworthy traffic to and from your phone.
When you install a firewall app on your phone, it will determine whether or not a specific process or program instance should have been allowed to continue.
If the firewall program determines that everything is in order, it opens a connection and continues. However, if the app believes that the process is hazardous, the firewall will kill it.
A smartphone firewall acts as the first line of defence in network security, forming a barrier between safe and controlled internal networks and the internet.
A firewall might be hardware, software, or a hybrid of the two.
Do We Need Firewall Protection in Android?
The firewall and security on Android and PC are different. Many people may wonder why we are emphasizing firewall protection in Android.
The answer is straightforward in this case.
Both Android and iOS devices offer strong operating system-level security to keep hackers and cybercriminals at bay.
Consider your Android smartphone to be a big city full of applications that represent individuals going about their everyday lives.
Now, not all citizens are trustworthy, so a security system is required to keep an eye on them.
Similarly, a firewall is essential for your Android smartphone because it offers an extra degree of protection by filtering and preventing illegal network connections.
It protects your personal information by preventing sensitive data from leaving your phone without your knowledge.
Does Android Have a Builtin Firewall? 
This is another concern that many users have. The short answer is no. Such default firewall settings do not available in Android.
It is indeed not essential if you are installing trusted programs from the Google Play store.
But have you considered when the security will be compromised?
Without a doubt, only when unapproved third-party apps gain control of the device.
While Android devices already have built-in security safeguards, an Android Firewall can provide an additional degree of protection.
It enables you to have precise control over network connections, monitor app behaviour, and prevent unwanted access or data breaches.
If you respect your privacy and want to improve the security of your smartphone, an Android Firewall is strongly recommended.
Third-party application installation is not possible on iOS devices, as far as an average user is concerned. However, it is simple to accomplish on Android devices by simply toggling a button.
We don't want to conceal any cases of vulnerabilities in some applications in the official app stores for iOS and Android. However, such a circumstance is quite uncommon.
People currently prefer mobile phones to desktop computers and laptop computers. You should consider securing your smartphone because it may include important information, banking apps, and other useful files.
However, the risk of viruses, malware, and other malicious files on Android handsets is low. There have been no viruses detected on Android thus far.
As a result, there is no risk as long as trusted programs are used. It is always a good idea to install and use reliable apps from the Google Play Store.
Unknown or suspect programs may expose your personal information, which is why you should never download apps from unknown sources.
The majority of mobile security software offers advanced security for your smartphone devices. Furthermore, several Android phone makers incorporate their security apps into their phones.
However, the inbuilt applications may not have passed extensive security testing by a third-party testing firm, as is the case with the leading security software for Android.
With every Android app having unrestricted internet access, a firewall is a must-have security and privacy solution.
You do not need to install a firewall application on your Android right now as a basic user. However, you should be aware that hackers may target your device via malware and other threat shortly.
Even though activating a firewall on your device is not required, it is always a good idea to be cautious. If your smartphone lacks a security program, at the very least, use a reputable free antivirus application.
Although the use of a firewall on Android phones is not as critical as it is on PCs, it can still assist you in regulating traffic and internet access for greater security, data optimization, and performance.
However, if you have an Android phone and are installing and testing various apps, it is recommended that you utilize a premium version of a mobile security application on your smartphone.
The majority of Android Internet security apps include sophisticated levels of functionality, such as firewall protection.
However, the control choices in these antivirus suites' firewall features may be basic and sufficient for most users. If you require more powerful firewall functions, consider getting a dedicated firewall program.
Related: How To Fix Ghost Touch On An Android Device?
Advantages of Firewall Apps
Network Traffic Inspection and Filtering
Using firewall programs for Android that are based on a predefined security protocol, you can easily monitor all incoming and outgoing data between your smartphone and the internet.
You have no control over an app after you install it on your phone. This means you have no idea when or how many times it will connect to the internet or what information your smartphone will share over the internet.
You can control this unlawful data exchange by particular apps by utilizing a firewall app. It can also select whether to accept or reject specific forms of communication, based on pre-defined security standards.
The firewall app allows you complete control over all of your phone's apps. Its function is to let you choose which apps have Internet connectivity and which do not. It also notifies you about ad-supported apps and lets you disable them.
Consider packet inspection to be searching through the mail before it reaches your inbox. An Android firewall examines data packets as they travel across the network for indications of malicious or suspicious behaviour. It filters out malicious packets, protecting your device from potential risks.
Managing App Permissions
Furthermore, the firewall app can specify which apps are only available via wifi, 3G, and other methods. On an Android phone, we can switch from mobile data to Wi-Fi at any time, but we can't prevent an app from accessing the internet.
However, this is feasible, along with other features, in several top firewall apps for Android. Having this program on your Android provides you with more control over your device.
If you're concerned about security, the firewall is a must-have. As a result of the increased use of smartphones, many people are already developing applications. Furthermore, app developers are constantly improving their existing programs.
The Google Play Store has millions of apps for Android, the most popular smartphone operating system. As a result, you should protect your phone using a cell phone firewall. 
Only a few of these require you to root your phone, but the vast majority do not. This will save you a significant amount of time and work while rooting an Android handset.
There are numerous firewall apps available in the Google Play market. Based on our testing experience as users, we have selected some of the best free firewall applications for Android.
5 Best Android Firewall Apps
1.NetGuard
NetGuard is a straightforward best firewall for Android that enables easy administration of internet access across individual apps.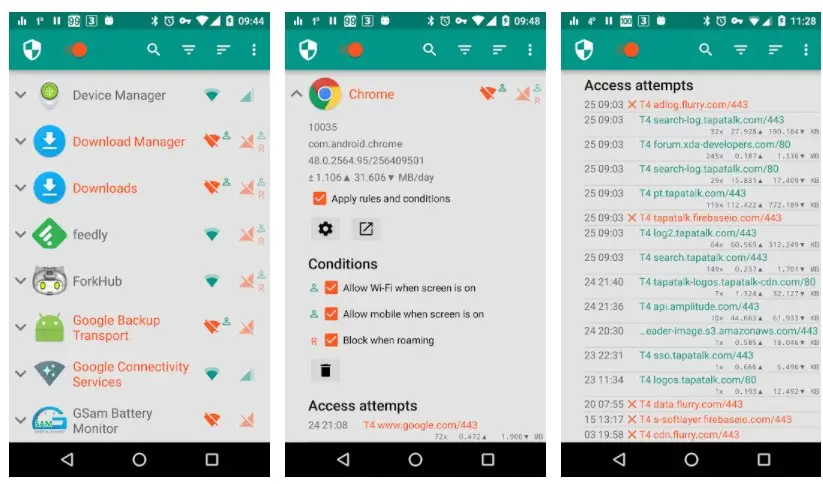 It comes with a good settings management system as well as some advanced capabilities like software blacklisting and whitelisting. And, perhaps most importantly, it is one of the few firewalls on the list that does not require root access.
When compared to the NoRoot firewall listed below, Netguard has more functionality, such as IPV6 compatibility and an easy-to-use interface.
So, if you're looking for a simple Android firewall with no confusing settings, Netguard is the software for you.
NetGuard, like other Android firewall apps, allows you to monitor both incoming and outgoing traffic. The software is compatible with both rooted and non-rooted devices, and it provides both simple and advanced techniques for limiting internet access.
NetGuard, an Android Firewall App, provides a more robust method of preventing programs from accessing the internet.
If you've never used a firewall before, NetGuard is the best place to start. It has a straightforward user interface.
NetGuard is a firewall that also functions as a VPN. If you have this app installed on your phone, it means you have complete control over the applications included within.
It's more convenient to have control over your connectivity, whether you're utilizing your data plan or Wi-Fi. You may choose whether an app can use a data or Wi-Fi connection, or you can simply disable its internet access.
This saves you time, and battery life, and protects your privacy by stopping you from accessing the internet when you don't need to.
You may also disable ads with this app. Install this app from the Google Play Store. It has a user rating of 4.3 and over 5 million downloads!
After the installation is finished, you must activate NetGuard and start it on your phone.
It's also a free firewall for Android because it's open-source and compatible with Android 5.0 and higher. Unlike NoRoot Firewall, NetGuard supports IPv6, as well as TCP/UDP and IPv4.
Related: 10 Steps To Do If The Flashlight Isn't Working On Android Phone?
2.NoRoot Firewall
NoRoot Firewall is by far the most popular firewall app and a fantastic solution for all unrooted phones.
It includes the capabilities and functionality that you'd expect from an Android firewall. You may quickly alter an app's firewall by checking and unchecking the boxes in front of the specific program.
On the Google Play Store, NoRoot Firewall has over 5 million downloads and a 4.2-star rating.
While everything about this software is fantastic, it has one flaw: it does not support IPV6, hence it cannot be used with an LTE connection.
It works by configuring a moke virtual private network (VPN) and directing all app traffic through it. In a word, it lets you control when and how specific programs connect to the internet.
This offers several additional benefits. You can, for example, check to see if programs are accessing ad data or prevent apps from squandering bandwidth.
By far the best Android firewall software we've ever used is NoRoot Firewall. NoRoot Firewall is a straightforward firewall application that works on both rooted and non-rooted devices.
Filtering options for IP addresses, hostnames, and domain names are included, along with fine-grained access controls and a few other useful features.
NoRoot Firewall should be installed on your phone if you desire a wide range of functions. When an app attempts to connect to the internet, a pop-up notification will appear. You can then give or deny access, and your choice will be remembered for future attempts.
You may also specify whether an app can only connect to the Internet via Wi-Fi, mobile Internet, neither, or both, which prevents cloud storage services from synchronizing and applications from updating while you are not connected to the Wi-Fi Internet.
It ensures that your personal information will not be transmitted to the internet without your consent.
3.AFWall+ (Android Firewall +)
AFWall+ is a popular Android firewall app with over 500,000 downloads and a 4.1-star rating on the Google Play Store.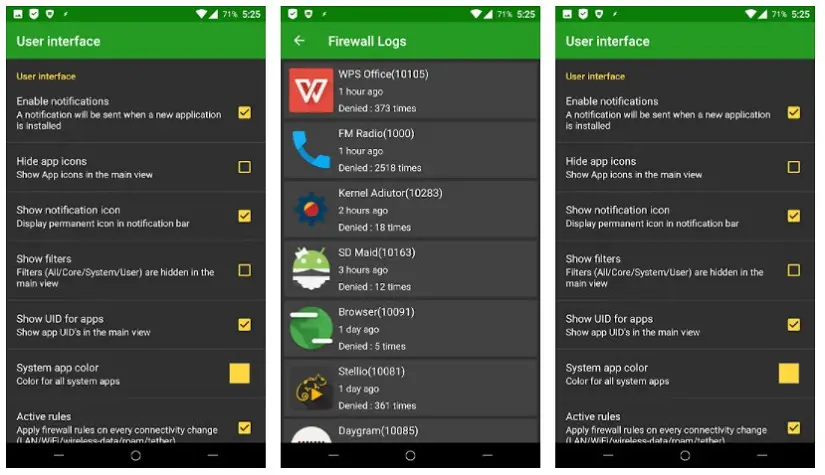 It has a material-inspired user interface that makes it easy and uncomplicated to use, and it controls the app's network access well.
You can configure the firewall and disable internet access for the apps. You should be aware, however, that this software is only compatible with rooted Android phones.
If you have a rooted phone, AFWall+ is an amazing choice and far superior to the NoRoot Firewall. If your phone lacks root access, look at the other firewall apps on the list.
AFWall+ adds various extra features if your phone is rooted, such as connecting with the tasker to perform specified sets of activities. As a result, it is yet another great firewall software for Android that you may use.
Running AFWall+ forces you to dig further into the control of your Android device. This software is distinct from others in that it allows you to identify which applications are phoning home and respond accordingly.
Unlike its competitors, it functions on IPV4, IPV6, (and, by extension, LTE networks), has VPN control, LAN control, tether control, and a lock pattern for application protection.
Of course, it has all of the same features as the NoRoot Firewall, including connection type blocking, IP address blocking, and hostname blocking, among others.
It's a "Material Inspired Design" front-end application for the iptables Linux firewall. You may regulate Internet traffic using the tool iptables. This proves that you are the rightful owner of the phone.
AFWall+ works by modifying the iptables Linux firewall, and it's unclear whether simply uninstalling and reinstalling a program will affect these settings, so if you ever want to remove AFWall+, make sure you first restore them to their defaults!
It makes no difference whether you connect over VPN or LAN. However, it will function in the same way as the previous setting if you connect over a VPN.
Another unique feature of AFWall+ is the ability to tailor your Internet speed. You should not hesitate to install this firewall program because it comes from one of XDA's developers.
It enables you to fine-tune the programs that are permitted to connect to the internet.
4.InternetGuard Data Saver Firewall
InternetGuard, another top-rated Android firewall app on the list, works on both rooted and non-rooted Android devices.
InternetGuard Data Saver Firewall is a newer app on the Google Play Store, with a user rating of 4.3 and one million downloads. With a single swipe, it is suitable for blocking all network traffic.
You can use this software to create custom profiles that block apps from accessing the internet when connected to WiFi or mobile data. Aside from that, the app's user interface is distinctive.
It ensures a higher level of security and is unconcerned with the information you've sent to the Internet. With this software, it's as if you had a personal counsellor.
InternetGuard will notify you whenever any app requires Internet access. The notification invites you to select an approved connection. Surprisingly, it is completely free.
This software is also compatible with all networks, including 3G, 4G, WiFi, and LTE. This Android Firewall will be useful for those who want to limit all incoming and outgoing internet traffic.
It's simple to use and lacks any complicated settings or features. It is one of the best Android firewalls that has lately been released, with a plethora of sophisticated features.
Another notable feature of this Firewall is the ability to effortlessly "allow/block" app connectivity, as well as the lack of user data or analytics tracking. This software supports tethering and IPv4/IPv6 TCP/UDP protocols.
5.DataGuard No Root Firewall
It's a straightforward, ad-free app.DataGuard No Root Firewall allows you to limit internet access to prevent online attacks and protect yourself from unauthorized internet access.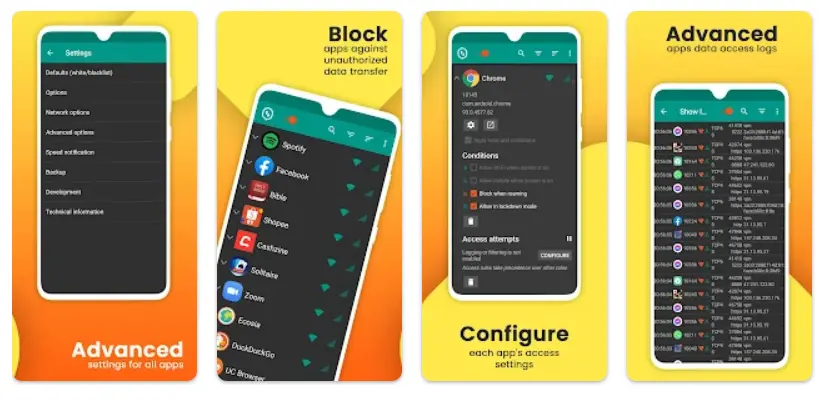 DataGuard No-Root Firewall Internet Data Blocker is a robust application that includes an Android-based firewall.
You may ban access to any program or website in seconds using a simple and easy interface. With a single click, you can simply ban a website or URL. You can grant or refuse access to applications and websites via your Wi-Fi and/or mobile connection.
This firewall may prevent access to any website or URL, regardless of how much resources it demands. One of the few applications that work, it allows you to specify which apps are authorized to transfer data from your phone.
It has several modes, some great notification capabilities, as well as tracking to see which applications are the worst.
Configured similarly to other no-root firewall solutions, except that most features are enabled, making the software more helpful than most others. 
You may defend yourself against web assaults and unauthorized internet access by restricting access to the internet.
The app will also inform you when an app or website connects to the internet. This is handy since it stops you from unintentionally granting access to a malicious website.
Related: How to Fix the 'android.process.acore has stopped' Android Error?
Conclusion
So, how do you feel about our firewall app recommendation?
Simply download one of the best firewall apps for Android and see how it can improve your phone's security.
Do you have any other firewall software recommendations?
Simply write a comment below. Maintain the security and management of your Android device.
Although there are thousands of Android firewall apps available, the ones listed above should suffice.
Control unwanted internet access with any of these applications that meet your requirements. Additionally, for increased smartphone security, only download applications from trusted app stores.
Frequently Asked Questions
Is it necessary to use Android firewall applications just on rooted devices?
No, not always. While some firewall applications may require root access to unlock additional functionality, other firewall apps operate fine on non-rooted smartphones. These programs monitor and filter network traffic without requiring root access by utilizing VPN technology or other means.
Can Android firewall applications impact the usual operation of my apps and services?
In rare situations, certain firewall apps may interfere with the regular operation of particular apps or services. However, legitimate firewall programs are meant to minimize such interruptions by providing adjustable settings and whitelisting choices. It is advised that you thoroughly check the app's documentation and user reviews to verify compatibility with your specified applications and services.
Do firewall applications have any effect on device performance or battery life?
Firewall apps, like any other security applications, may have a nominal effect on device performance and battery life. Modern firewall programs, on the other hand, are built to be lightweight and resource-efficient. The effect on performance and battery life is often insignificant, particularly on recent model smartphones.
Can I run multiple firewall applications on my Android device?
Using many firewall apps at the same time is not advised since it might cause conflicts and interference in network traffic control. It is preferable to choose a single dependable firewall program that fulfils your needs rather than several competing ones. This guarantees a more reliable and secure experience on your Android smartphone.
We hope you found this article helpful, and do like and follow us on Facebook and Twitter for regular updates.
Sign up for our free newsletter as well to receive fresh information right in your inbox and stay informed technically.
You May Be Interested to Read: