How to Connect GoDaddy Domain to Wix Website Easily?
Even though it is a simple process, many website owners struggle to connect the GoDaddy domain to the Wix website. So, let us go over this Wix Godaddy pairing setup.
In many ways, the evolution of the internet has greatly helped in bringing new opportunities and benefits into our lives.
As we all know, the Internet revolution began with a search engine to discover and learn about various topics leading to an infinite world of knowledge and technology.
But in today's scenario can we think that we can survive without the help of the internet?
It starts from a simple web search into a variety of services including daily shopping, financial transactions, and booking services.
And no need to say we can easily experience the necessity of the internet when there is an internet outage at least even for five minutes.
People are increasingly turning to the Internet as a primary means of promoting their businesses through their websites and increasing their visibility through online advertising.
Even though social media websites aid in the promotion of a company, a website in the company's name provides more value and a more official representation in the digital world.
Related: 5 Simple Methods for Obtaining Temporary Internet Service Without a Dedicated ISP Connection
As the number of websites grows, it becomes increasingly important to keep a suitable database in place, as well as dependable domain registration and hosting solution provider.
A domain name registration business is primarily responsible for the sale, registration, and management of domain names. GoDaddy is one of the best companies that provide such services.
To meet our needs, there are a variety of content management systems (CMS) and hosting providers available, similar to domain registrars.
Wix and GoDaddy are both domain registrars and web hosting providers in this case.
However, Godaddy is well-known for its domain registration service, and Wix is a good CMS/hosting provider.
In this section, we'll go over how to connect the GoDaddy domain to Wix name servers.
How to Connect GoDaddy Domain to Wix Name Servers?
As previously stated, Godaddy is the world's largest domain registrar, with over 70 million domains and 16 million clients, and it is rapidly expanding.
During the last decade, it has risen at an exponential rate. The primary reasons for this domain registrar's popularity are its exceptional customer service, dependable support, and error-free domain results.
Users create their websites after purchasing a domain, either on their own or with the assistance of a web developer.
The majority of web developers build their websites using content management systems such as WordPress or Wix.
Because of its simplicity, Wix is a well-known name in the website-building industry after WordPress.
Although Wix offers a domain registration service, the majority of Wix users prefer to use Godaddy as their domain registrar.
We must connect the GoDaddy domain to Wix when we use Godaddy as a domain registrar and Wix as a hosting provider.
However, users may encounter problems while connecting the GoDaddy domain to Wix. The most common issue arises due to the lack of procedure knowledge to connect the GoDaddy domain to Wix.
It should be noted that you can only point and connect your Godaddy domain name to your Wix premium account.
When you connect your domain name to Wix, it remains registered with GoDaddy but points to your Wix site.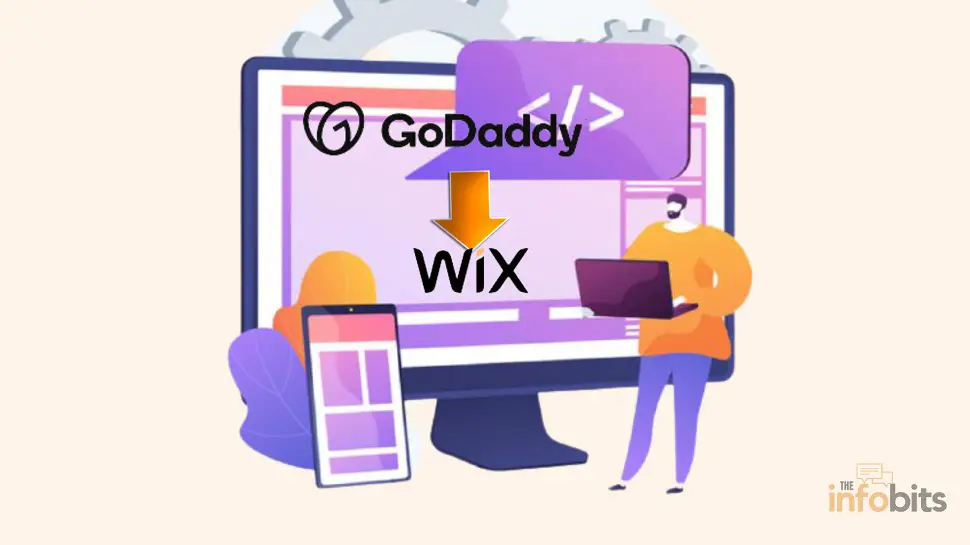 When you transfer your domain name from GoDaddy to Wix, it will be moved from the former to the latter and hosted by Wix. The result is the same: anyone who types your domain name will be directed to your Wix site.
But we're here to talk about how to connect the GoDaddy domain to the Wix website. Users can seek technical assistance or follow the simple steps outlined below.
Update the name servers in your GoDaddy account to transfer a domain away from Wix. Wix becomes your DNS host with this connection method, but your domain stays registered with GoDaddy.
Go to the Domains page in your Wix account and add the GoDaddy domain before modifying the DNS settings in your GoDaddy account.
Navigate to the Domains section of your Wix account.
Select Add an Existing Domain from the drop-down menu.
Select  Connect a domain you already own.
Select the site to which you wish to link your domain and then click Next.
Enter your domain name and click the Next button.
Examine the information on the screen and then click the Start button.
Before proceeding with the DNS configuration, you should obtain the Wix name servers.
Go to your GoDaddy account and log in.
Select My Products from the user profile icon in the top right corner.
To the right of your domain, click DNS.
In the Nameservers section, click Change.
From the drop-down option, choose Custom.
Click Save after entering the Wix name servers.
Following the completion of the preceding stages, Return to your Wix account and select "Verify Connection." This ensures that the domain is appropriately associated with your Wix website.
It may take some time for DNS updates to propagate throughout the internet. It might last anywhere from a few minutes to several hours.
During this period, certain visitors may see your previous website (if you had one), while others will see the new Wix site.
Your GoDaddy domain should be correctly connected to your Wix website after the DNS modifications have fully propagated.
Remember that it is critical to have both your Wix and GoDaddy accounts active and up-to-date for your domain to work properly.
Even if the user is having difficulty, they should contact the respective service provider's customer support professionals to ensure that whatever the problem is, it is resolved as soon as possible.
As a result of this situation, certain issues may arise, such as how to transfer or connect your GoDaddy domain name to your Wix site. These solutions are simple for the user to implement to quickly resolve the issue.
Conclusion
If at all possible, keep GoDaddy as your domain registrar. It is extremely useful if you use their service to access email accounts, which makes sense.
In this case, you can connect your GoDaddy domain name to a Wix premium site by following the steps described above.
You'll need to make the necessary technical changes via GoDaddy's DNS settings page.
GoDaddy, on the other hand, will assist you when you simply contact their support service if you are experiencing any major challenges.
We hope you found this information useful for you, and please like and follow us on Facebook and Twitter for regular updates.
We also request that you bookmark this page for future reference. Sign up for our free newsletter to receive new information in your inbox regularly and stay technically up to date.
You May Be Interested to Read: