What to Do If Your Internet Access is Blocked or There is No Internet Connection?
The internet has become an indispensable part of our everyday lives. We all use it regularly, whether for personal or business reasons.
But what do you do when you're in the middle of a critical task and what to do if internet access is blocked? or What to do if your internet access is blocked on a mobile phone?
If you are on a Windows PC when moving your mouse over the Wi-Fi symbol in the Windows taskbar and seeing messages like 'No Internet access' or 'Connected to Wi-Fi But No Internet', it means the computer is unable to connect to the internet.
When you see warnings like "Not Connected" or "No Internet Connection," it means there is a problem connecting to the router or modem.
When you search for a website in a browser, you may encounter the dreadful error message "ERR_NETWORK_ACCESS_DENIED" on your screen.
Whatever may be the case, It's critical to determine the type of error message you're dealing with before looking for a solution.
When your internet is blocked or there is no internet connection, you may receive a similar notification on all of your internet-connected devices.
This article will explain what you should do if you find yourself in this situation.
Why is Your Internet Access Blocked?
Please keep in mind that this article is written to assist a user with a home or small office internet connection.
When you don't have an internet connection, the first and most important thing you should do is figure out what's causing the problem. If you have a problem with your modem, router, computer, or smartphone, you may not be able to connect to the internet.
The majority of the time, the issue is with your Internet Service Provider (ISP). We can decide on a solution depending on the level of the problem.
Your modem or router has a vast number of status indicators. Try to discover the meaning of these indicators by consulting the device or the user's manual. The majority of modems/routers display a notification for power, Wi-Fi, ISP line (cable) functionality, Internet availability, ethernet connection, USB connection, and so on.
That means you can easily determine the status of your internet connection from the modem/router itself. Replace your modem/router if it has a power problem or a self-resetting problem.
If you receive an error message indicating that there is no internet connectivity, it could be a problem with your ISP line. If none of the first three solutions listed below work, contact your ISP's customer service.
Otherwise, go over the other options. Also, determine whether the internet problem is shared by all devices or unique to one. If it is a single-device problem, such as a Windows PC, look for the solutions listed below for the PC.
You should confirm whether the issue is limited to the Wi-Fi connection or also affects the ethernet connection.
All of the solutions are presented in a sequential order that you can try out one at a time. As you can see, there are numerous causes for this problem, so one solution will not work for everyone.
The fixes listed below are a selection of possible options; choose the one that works best for you.
1. Reboot Your Router and Modem
Restarting is the first step in resolving most technical issues, particularly networking hardware issues. This is especially very helpful when your internet access is blocked when trying to access the router. In any piece of software or hardware, errors and bugs can occur.
Restarting the router and modem clears the memory and any residual issues that occurred during normal operation.
Rebooting the router is an option available in its web interface. However, you must log in as an administrator to your router.
Rebooting can also be accomplished by reconnecting the router/ modem's power supply. For at least one minute, turn off the modem's power supply. Then, reconnect the modem/router to the power source and test it.
Connect your modem first, then your router. Examine the router's lights to ensure they are operational.
2. Ascertain That the Internet Cable Connections Are Secure
Perhaps the coaxial or optical cable connector on the modem's backside is faulty. The wire that connects the internet to the wall or outlet is pointing to the modem's backport.
It is the primary internet connection for your entire home or office. If you get your internet from a telephone company, you'll be given a DSL cable that looks like a regular phone line.
Check that the cable is securely connected to the modem's input port and is free of fractures or cracks. If you have a cable problem, you should consider replacing the cable (you may need to contact your ISP for help with this).
3. Reset the Modem/Router
If you've tried the above solutions and your internet connection is still down on all devices, you may have changed a setting or function since the modem was first installed.
If you perform a full reset, all of these will be reset to their default settings. Remember that resetting is more severe than rebooting or restarting because it erases all passwords, DNS settings, ports, and firewall settings.
Even after attempting all of these workarounds, if you are still unable to connect to the internet on all of your devices, the issue is with the modem/router, which must be replaced.
If the internet connection is working properly on any single device, the problem is device-specific, and you should look into the solutions highlighted below.
4. Connect to the Correct Network
Check that your Wi-Fi device isn't attempting to connect to a nearby network or an unconfigured Wi-Fi repeater.
In either case, you may be experiencing problems that prevent you from obtaining proper internet connectivity. In this case, even if your Wi-Fi is turned on and connected, you may not have internet access.
Examine the network name to which you're attempting to connect in the Wi-Fi settings. If you don't recognize it, it's probably not your network.
Wi-Fi extenders, on the other hand, frequently use the same network name as your router. If you suspect this is the case, try resetting the Wi-Fi extender or unplugging it for a short period to see if you can get Wi-Fi without it.
If you can access the internet, the problem is most likely with the extender, which you can resolve from there.
5. Reconnect to the Wi-Fi Network
Certain operating systems will not notify you if you enter the wrong Wi-Fi password. Even if your laptop, tablet, or phone indicates a strong Wi-Fi connection, the router may refuse to communicate with your device if the password is incorrect.
If you're using a public Wi-Fi hotspot, you might be attempting to connect to a network you haven't used in a long time, and you're using an old password that used to work but has since changed.
So, try reconnecting to the Wi-Fi network with a valid password.
Related: How to Fix the Windows 10 No Internet-Secured Error
6. Disconnect from VPN Service (If any)
If your device is connected to a VPN service, you may notice a strong Wi-Fi connection but limited or no internet access.
To see if the problem has been resolved, try a different VPN server or disconnect from the VPN.
7. Restart Your PC or Mobile Device
Whatever the cause of your Internet access being blocked, the most common and straightforward solution is to restart your device. Many issues can be resolved by restarting or rebooting the computer or mobile device.
If you have a minor issue, you can resolve it by rebooting your computer, just as we did with the modem/router.
After the restart, open your browser and check to see if your internet connection is still active or not.
8. Check to See If You Have An IP Address
If the issue isn't with your router's connection with your device and it is with your ISP, you could be connected to a router with full signal bars and still have no internet access.
When this happens, your router continues to function on your network, but it lacks a valid public IP address, making it impossible to send or receive data over the internet.
Another reason you might not have a suitable IP address is that your device is set to use a static IP address, but the router refuses to allow it to connect to the network. If you use a static IP address on a DHCP network, this can happen.
The simplest solution is to leave the router's DHCP enabled and delete the device's static IP address.
For example, in Windows, you can do this in the Control Panel by going to the network adapter settings and selecting Obtain an IP address automatically instead of manual assignment.
9. You Could Be in a Public Wi-Fi Hotspot
When using a Wi-Fi hotspot, such as at a hotel or airport, you might think that once you have a strong wireless connection, you can check your email or surf the internet, but this isn't always the case.
When you open your browser, a page with basic information about the hotspot provider appears, along with instructions on what to do next. Accept the terms of the agreements or enter the password offered by the provider.
Some hotels require a separate code to access the hotspot page based on our package, and airlines occasionally charge for internet access.
Wait for the hotspot web interface to finish setting up the connection or redirect you to another page where you can browse the internet normally.
10. Attempt a Different DNS Server
Even the strongest Wi-Fi signal is useless if your device is connected to a DNS server that has incorrect or unavailable data.
Choose an alternate DNS server and update the DNS server settings on your device to see if the web pages eventually load.
Your ISP's DNS server may not always be fully operational. In this case, you can use Google or OpenDNS's dependable DNS servers.
11. Check for Any MAC Address Filtering
If MAC address filtering is enabled on your network, the device may be connected to Wi-Fi but your internet access is blocked. This is accomplished by allowing only devices with a specific MAC address to connect to the router.
Although your device appears to be connected to Wi-Fi, any attempt to connect to the internet or another network device is blocked.
Because this configuration is more common on corporate networks, the most straightforward way to bypass MAC address filtering is to request that your device's MAC address be added to the authorized list for internet connection.
12. Turn Off Your Antivirus and Firewall
As another troubleshooting step, turn off your antivirus software and reconnect to the internet. Antivirus software is essential for protecting your computer from malware and viruses.
Third-party antivirus software may interfere with normal network operations or block your network connection. Nowadays, antivirus software is sold in all-in-one packages that also include firewall protection.
Although antivirus software will not prevent you from connecting to the internet, the built-in firewall may be blocking the internet. Disable your antivirus software and check to see if the error in your browser has gone away.
If your internet access is blocked, you can also disable the Windows firewall, which may be interfering with your connection.
13. Run Windows Network Diagnostics
Running Windows Network Diagnostics does not guarantee that the problem with the blocked internet connection will be resolved. However, there is no harm in trying this solution.
In the Settings menu, navigate to Network & Internet.
Select Network Troubleshooter from the drop-down menu under Status.
A new window appears that performs Windows Network Diagnostics on your behalf. Follow the on-screen instructions to proceed with the procedure.
14. Update Wireless Driver in Windows
Since an internet connection requires the use of a wireless network, make sure the computer's Wi-Fi driver is up to date.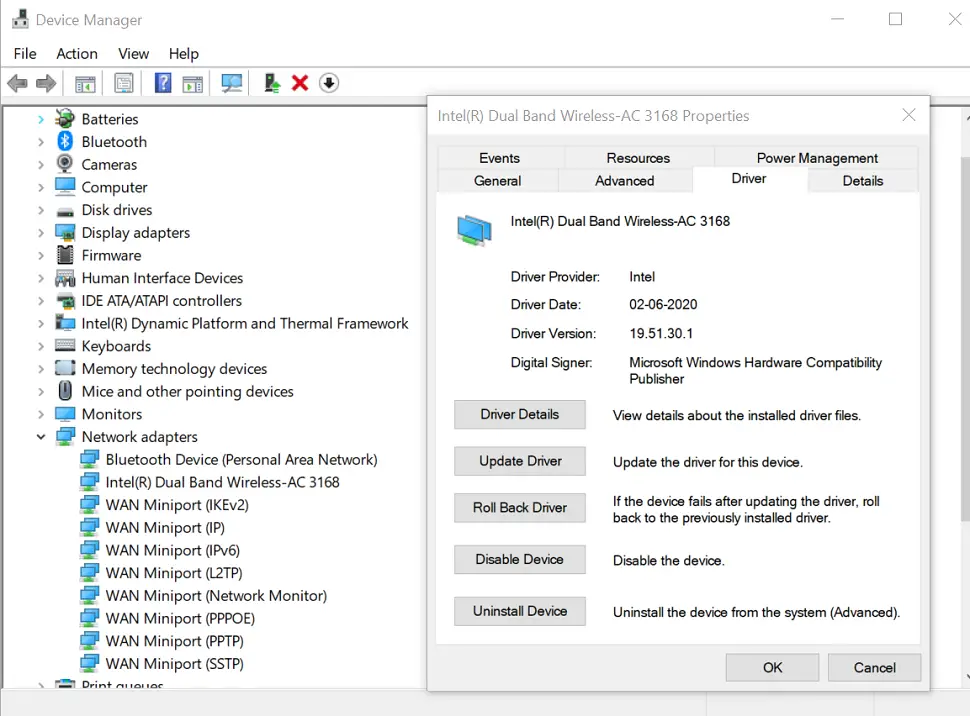 To update the driver, press Windows + X and then select Device Manager from the menu.
A conflict with the network device's driver can cause internet access issues in Windows 10. So, at this point, updating the network device driver is a good option.
To find your wireless driver, expand Network adapters.
When you right-click it, choose Update driver > Search automatically for new driver software from the context menu.
In some cases, you will be unable to discover a suitable replacement driver. In that case, right-click the device name and select Properties to learn who made it (most likely Intel or Realtek).
You might be able to find a modified driver version on the website of the hardware manufacturer.
Disable & Enable network device: If the PC is not connected to the internet, repeat the previous steps to disable the network interface. To enable this network device, restart your computer.
Reinstall network adaptor: If your computer is still unable to connect to the internet, repeat the preceding steps until the network interface is chosen. Choose Uninstall from the menu that appears when you right-click on the network interface.
Windows will now uninstall your network adaptor. In the Device Manager pane, click Network Adaptors again, then click the Action button at the top of the window.
Select Scan for Hardware Changes from the menu that appears. Windows will immediately detect and reinstall the network adaptor.
After restarting the computer, check to see if the internet connection is still active.
Reinstall network driver: If the previous method does not work, you can remove the wireless device driver from your computer by right-clicking it and selecting Uninstall device.
After you reboot, Windows should reinstall a new wireless driver. If it does not do so automatically, you must reinstall it manually.
15. Check for Malware and Virus 
Now that we've tried a few solutions for no internet connection, it's time to scan your computer for malware. Viruses and other malicious programs can tamper with your internet settings, making them inaccessible to you.
Use Windows Defender or any other reputable antivirus software you have installed to run a virus scan. Install Malwarebytes on the affected computer and download it to a computer with internet access to run an anti-malware scan.
16. Reset Network Settings
At this point, you've tried every major solution. You can now reset your Windows 10 network settings. You should reset your network settings in Windows after you've exhausted all other options.
You've already worked hard, and a network reset will clear up any remaining issues that are preventing you from connecting to the internet.
Navigate to Settings > Network & Internet > Status, then click Network reset.
It's important to note that this will uninstall all of your network adapters and reset them to factory settings.
If you agree, click Reset now. As a result of the operation, your computer will be rebooted.
Please keep in mind that doing so will erase all network data from your device, forcing you to reconnect to all previously saved networks. If you're okay with it, click Reset right now. Your computer will restart after the reset.
Conclusion
We are confident that one of the solutions assisted you in resolving the no internet connection issue. If so, please share your experience in the comments section below so that others can benefit from it.
Try these solutions one by one if you have no internet connection or if your internet access is blocked by the error message "ERR_NETWORK_ACCESS_DENIED".
If none of these troubleshooting steps work, contact your ISP, router manufacturer, or computer or smartphone manufacturer for assistance.
Frequently Asked Questions
Why is my internet access blocked?
There might be several reasons why your internet connection is blocked. It might be due to network or software difficulties, faulty setups, or even intentionally enforced limits by your internet service provider (ISP). Identifying the root cause might assist you in taking the required actions to address the problem.
What should I do if my internet connection suddenly stops working?
There are various troubleshooting procedures you may take if your internet connection suddenly stops working. Begin by rebooting your modem and router, then check physical connections, confirm Wi-Fi settings and passwords, and update network drivers. If these methods do not address the problem, you should contact your ISP for further assistance.
Can I use my mobile data as an alternative for internet access?
Yes, utilizing your mobile data as a short-term alternative to an internet connection is possible. You may use your smartphone as a hotspot for other devices's connectivity if you allow mobile data on it. However, it is critical to be aware of data restrictions and their potential impact on your mobile data plan.
We hope you found this post informative, and do like and follow us on Facebook and Twitter for regular updates.
We also ask that you bookmark this page for future reference. Sign up for our free newsletter as well to receive fresh information immediately in your inbox and keep technically up to date.
You May Be Interested to Read: