How to Easily Fix the "SIM Not Provisioned mm2" Error?
Have you ever received the message "SIM not provisioned" or "SIM not provisioned mm2" on your phone?
The error notification is sometimes presented precisely as 'SIM 1 not provisioned' or 'SIM 2 not provisioned'.
This usually happens when we exchange an old SIM card for a new one. Let us discuss why this is happening and how we can make it stop.
To resolve the "SIM Not Provisioned" problem, reinsert the SIM card and ensure it is properly placed. If this does not work, try using a different phone and restarting the device.
If you're still having trouble with a SIM card not being provisioned, try the solutions suggested below.
Why Is the Error "SIM Not Provisioned mm#2" Displayed?
This error message appears on your phone, along with the option to make an emergency call.
But what does a SIM card not provisioned mean?
'SIM card not provisioned' means that the SIM card is not functioning properly or that it is not permitted to connect to a mobile network.
In other words, your SIM card has not been approved to function on the network of your carrier.
The SIM not provisioned mm#2 or SIM not provisioned problem is fairly common, particularly among people who buy a new phone with a new SIM card or switch their number to a newer SIM card.
Only the emergency calls function will be displayed on your handset, along with the SIM not provisioned mm#2 error.
You will be unable to contact anyone other than the emergency number. Even if you have this problem with your phone, you will be able to use it and its other functions normally.
We explain why get this error and how to fix it.
All SIM cards must be activated before they can be used, but if you have previously activated yours on the same phone, another one could have caused the problem.
This is an indication of SIM card issues. You are currently unable to make routine phone calls from your mobile phone. Let us look into it.
The SIM card is a Subscriber Identity Module, as the name implies. This ensures that it contains some critical information that can be used to identify a subscriber's account in a mobile network operator's database.
This SIM card allows your phone to connect to a mobile network and connects your identity to the IMEI number of your phone.
As previously stated, the SIM card not provisioned error code indicates that there is a problem with your SIM card that needs to be repaired or replaced.
This error message is typically displayed for a variety of reasons.
Your SIM card has been disconnected from the network.
You're swapping out the old SIM for a new one.
You're using a different handset and a new SIM card.
Your mobile network provider's server is unavailable.
You inserted the SIM card incorrectly into the SIM tray.
This error message may also appear if you use a SIM card that was locked in your previous phone.
If you have a dual SIM phone, the error message will display the SIM card number that is causing the problem.
For example, you may receive a message stating that "SIM 1 is not provisioned" or "SIM 2 is not provisioned".
Related: A Genuine Comparison of Malwarebytes Vs Kaspersky
What Does "SIM Not Provisioned for Voice" Mean?
"SIM not provisioned for voice" means the same as "SIM not provisioned." You are also unable to make voice calls since your SIM card has been disconnected from the mobile carrier network.
However, this error is most frequently seen on mobile phones with SIM cards connected to the Google Fi network, and it is most commonly seen on Google Pixel smartphones. Google Fi is an integration of mobile and Wi-Fi networks.
How Can You Resolve the SIM Not Provisioned Error?
We can solve the problem quickly by implementing the solutions outlined below.
A SIM provisioning error might be caused by a network provider issue, or it can be caused by a faulty SIM card or SIM slot.
This issue can also occur if you have been out of your carrier's network for an extended length of time and have just returned.
The "SIM Not Provisioned" problem can also be generated by software or hardware flaws on your phone.
Finally, the least likely cause is that your phone is not carrier unlocked, which means it does not allow SIM cards from carriers other than the one with whom you have a contract.
1) Confirm the SIM Card Is Activated:
Your SIM card has not been activated, has been suspended by the service provider, or has not been picked up by the mobile phone, which is the primary cause of the SIM not provisioned mm#2 error.
If you recently purchased a new SIM card and have yet to activate it, this error is likely to appear.
When you receive an error message, the first thing you should do is double-check it. Normally, a new SIM card would be activated within the time frame specified (varies from network to network).
If the SIM card is not provisioned (enabled) within the time frame specified by the network provider, contact customer service and request that it be activated. When you activate the SIM card, no error message appears.
If your SIM was working fine before it started throwing this error, try one of the following solutions.
3) Enable and Disable Airplane Mode:
Most network issues on your phone may be resolved by disconnecting and restoring these network connections.
This may be accomplished by using the Airplane mode in your mode. So we can try the simplest way to resolve all probable "SIM not provisioned MM2" problems, which is to turn off and on all phone or tablet connectivity through Airplane mode.
When you enable Airplane Mode, all wireless connections are disabled, including the basic cellular networks. The goal is then to re-establish a new connection to bypass the SIM not being provisioned problem by disabling Airplane Mode.
At that moment, a new connection to the mobile network should be established. The "SIM not provisioned MM2" message may no longer occur if the SIM is operating properly.
2) Reboot Your Phone:
In most cases, you can correct the error by restarting your phone properly. After restarting, wait a few moments for the boot and network recognition processes to complete.
The SIM card will then be registered with the network, and no further error messages will be displayed.
3) Insert the SIM Card Correctly:
When the SIM card is not properly positioned in its tray, the SIM card malfunctions. This could be due to a mismatch between the SIM plate contact and the SIM tray connection points.
Even if you've never touched the SIM card, it could have slipped slightly due to a faulty sim holder.
To fix this issue, first, reinsert the SIM after cleaning its chip contacts. Ensure that the SIM is properly oriented and seated as well.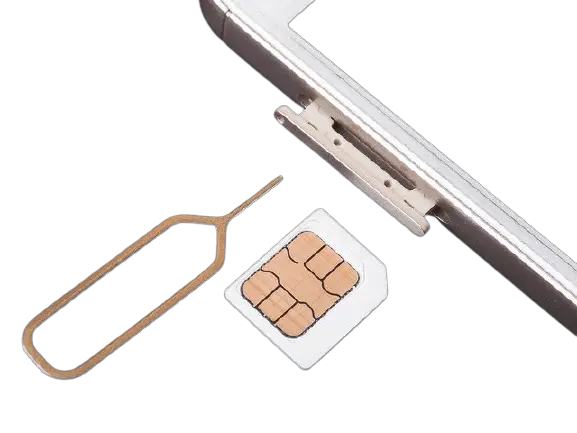 Follow the steps below to ensure that the sim card is properly inserted.
Turn off your phone. Remove the back cover of the phone. If you're unsure how to open your phone, consult the manual.
Look for the sim cardholder. If the SIM card holder is not visible, the battery must be removed. It may be hidden beneath the battery.
Recent smartphone models include a SIM card tray on the side. Remove the SIM card from the holder and clean the SIM card as well as the port (s).
Using a smooth, dry cloth, clean the gold contact on your SIM card. Carry out the same procedure with the SIM card tray and slot, but go gently and without applying any additional pressure.
Check that it is properly and completely inserted. There should be a small sign beside the sim holder to help you figure out which side of the sim goes in.
Replace the phone's battery (if it was removed) and close the back cover. Restart your phone to see if the problem has been resolved.
If everything is in order, you will no longer receive the "SIM not provisioned" alert.
4) Confirm to See If the Network Operator's Server Is Operational:
Delays in SIM card activation may occur as a result of a problem with the network operator's server.
If they accept the system failure on their end, let them fix it, and your sim card will be activated once the server is operationally stable.
5) Try the SIM Card in a Different Phone or SIM Tray:
If neither of the solutions above worked for you, there could be a problem with your handset or SIM. Try inserting the SIM card into another phone or a different SIM slot on your phone for testing purposes.
If it works on that handset, it means your phone has a problem that needs to be fixed; you can find out more about this problem by contacting a nearby mobile repair shop.
If the SIM card works in the other slot of your phone, we can deduce that the issue is with the former sim slot. If the error persists in both cases, the only option is to replace the SIM card.
You may need to change the provider settings on your new phone after swapping your SIM card. Normally, it occurs automatically. If the update does not occur automatically, you must actively look for an update by going via the phone settings.
Related: What Do No SIM Restrictions Mean? Is Your Phone Unlocked? 
6) Replace the SIM Card with a New One:
If all of these troubleshooting steps fail to enable the SIM and you still receive the error code, we can assure you that the problem is with the SIM card. As a result, it is preferable to request that the network operator replace the SIM card.
It is worthwhile to confirm with your mobile operator that your current SIM is faulty before requesting a duplicate SIM. Your service provider is the only one who can activate or deactivate your sim card.
As a result, contacting the service provider's customer service is the only way to resolve the sim not provisioned mm#2 issue. If your current SIM card is defective, they will either replace it or simply activate it if there is no problem.
We hope you found this article useful, and please like and follow us on Facebook and Twitter to receive regular updates.
Furthermore, we ask that you bookmark this page for future reference.
Sign up for our free newsletter as well to receive new information directly in your inbox and stay technically informed.
You May Be Interested to Read: